Buyer's Agent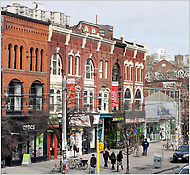 What You Should Know About Buyer's Agents
You wouldn't randomly choose a real estate agent when selling a house. You'd get recommendations, interview candidates and make sure you found the right fit.
Yet, when it comes to buying a house, many of us aren't so diligent about finding a buyer's agent.
Buyer's agents are licensed real-estate agents. Unlike a seller's agent, they work exclusively on behalf of the buyer. They can also help you find a real-estate lawyer to examine the sales contracts and inspectors to examine your dream property.
Generally the Buyer's Agent is paid by the listing broker.
A Buyer Agency Agreement ensures your realtor negotiates in your best interest.
If you hire me as your Buyer Agent, I will:
Review your wish-list and find the properties that satisfy your criteria
Provide education and research on each listing and each area of interest
Leverage my existing network of buyers and sellers to keep you up to date on the latest properties that fit your needs
Make myself available 7 days a week to answer your questions and concerns
Perform a comparative market analysis to ensure we make a fair initial offer
Coach you through a multiple offer situation by first reducing your stress, then making your offer stand out, so that you successfully purchase your home
Prepare and explain the offer and all of the associated requirements to you
Negotiate on your behalf to obtain the best possible price
Ensure you understand all the costs associated with closing a deal
Recommend professionals such as trades people, lawyers, moving companies and financing professionals to assist you with your move
If this agreement isn't working in your best interest, cancel it at any time by providing a written notice.
As your Buyer Agent, I promise to get the best possible price and terms for you.
Still wondering if this service is right for you? E-mail me or call me at 416.471-5638 to find out more.